Afro-Peruvian Workshop Registration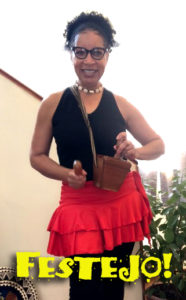 Afro-Peruvian Workshop – now FREE*
To register for the workshop on June 19th, 2021, all you need to do is fill out the form below, hit Submit to send your personal info, and that's it!.
We are going to have such fun! This is a lively dance and I just know you're going to love it. *UPDATE: We have changed the payment to "Donation basis," and made it optional. We will tell you about it during the workshop.
Date: June 19th, 2021
Time: 1:30–3:00 PM Eastern
Cost: Donation basis, if you can, Free if you can't. 
I'm so excited about the work that Washi Gibaja Tapia and his family are doing in Peru through One World Connection.  All donated proceeds from this workshop will be used to help feed thousands of families in the Sacred Valley of Peru during this difficult time. Peru has been extremely hard hit by COVID-19.
ALSO: Washi will be doing a special online Sacred Healing session on July 24th. It's also free, although love offerings will be accepted. You can click on the checkbox below to indicate you want to come to that as well.